SUN 7
Description
Works at SEEN STUDIOS NYC PARIS
Born in 1977. Jonas Bournat a.k.a. SUN 7 lives and works in Paris.
SUN 7 is obviously a child of the amalgamation of words and images, poetry and colour, art and the streets. In the early 1990s, he discovered New York tag culture. Spray can in hand, he took on the skin of walls in Paris and New York, and moved on to performances and installations, not only in Paris, Lyon and Marseille, but also in Shanghai, Hong-Kong and Djakarta.
He then started using canvases, signs and metal plaques. His register became permeated by multiple new influences: action painting, Arabic calligraphy, Latino tattoos, but words and calligraphy remained dominant - a mesh of words, a lace of letters, most often indecipherable but which when combined made portraits and self-portraits. Obvious portraits and coded texts created a subtle play of appearance/disappearance, in which everything related to calligraphy, glyphs and ideograms became as unreal as can be nurturing a deep sense of interest and mystery.
© Gilles De Bure - Espace Culturel Louis Vuitton, Paris (FR)

Work
&

Projects
Branding & Graphic design
10-page Press Kit
Newsletter design & mailing campaign
Social Media
Conception and launch
Facebook fan page
LinkedIn page
Photography
Art performances
Press
Kit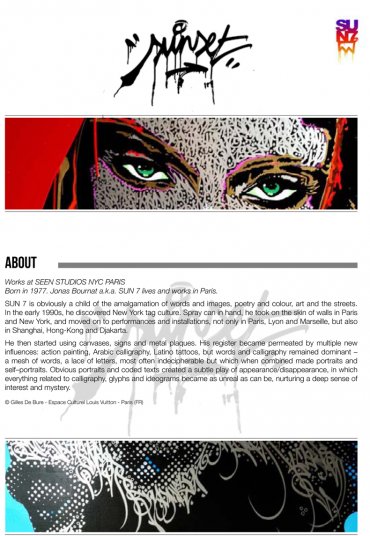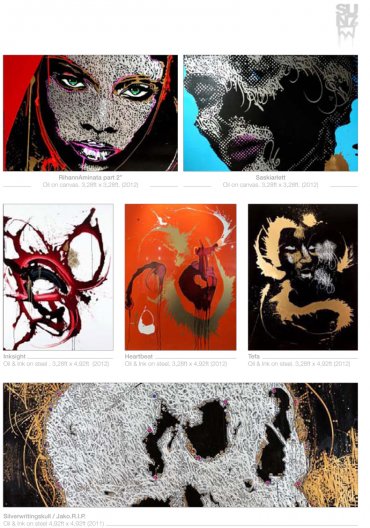 News
letter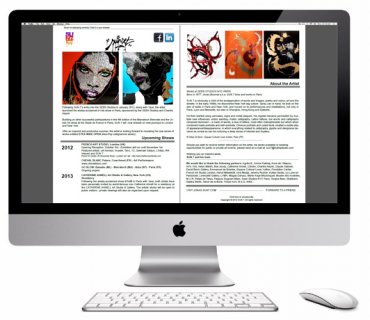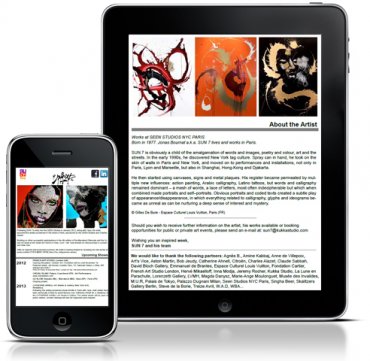 SOCIAL
MEDIA